Established in 1985, 
Ochoa Salon & Spa has been at the forefront of style and beauty
. The forging of a 
strong and unique relationship with L'Oreal Professional
 has led to Ochoa becoming one of the most distinguished salons in the industry. We have developed a culture based on an educational and artistic
 philosophy that exemplifies our dedication to you.
At Ochoa, 
we pride ourselves on our in-salon training program
, created to develop the skills of our entry level assistants. Assistants work closely with our stylists on a daily basis to gain practical knowledge of customer service, consultation, cutting, coloring and product knowledge.
We believe in a relentless and unwavering commitment to servicing both our clients and our community. Our success is dependant upon the collective energy and aptitude of all of our team members. Our business is based on continual education, professional development and commitment to persistently redefining ourselves in a forever changing industry.
At Ochoa, 
we represent the highest standards in the hair industry
 and place a great deal of importance on assembling the best team possible. We hire motivated people, train them to perform their job superbly, and create a working environment that enables them to flourish. To apply, Please bring a printed and completed application to either of our locations.
At Ochoa Salon & Spa we believe that loyalty should be rewarded. We are passionate about building lasting relationships and continually exemplifying our dedication to you. Our clients fuel our passion every day and give us the energy and motivation needed to achieve excellence in our industry. Please allow us to demonstrate our appreciation for your continued support with our new loyalty program. Been going to Ochoa for over a decade. NEVER had a bad experience. Got my hair cut for my wedding there. Brought my siblings and brother in law there to get cuts for their weddings too. They never disappoint no matter who you see.
~ Adam
I've had my hair done all over the east coast and currently live in Manhattan where there are an abundance of salons to choose from but, wish there could be an Ochoá Salon and Spa down the road. Their stylists are extremely friendly and helpful and I absolutely love my hair everytime I leave! Customer service is always helpful and I will definitely be returning soon!
~ Lisa
The team at Ochoa's was friendly, knowledgeable, and talented. The HydraFacial was incredible, as was my blowout and makeup. Will definitely be back! Thank you!!
~ Sara


LOCATION
653 N Main St.
East Longmeadow, MA 01028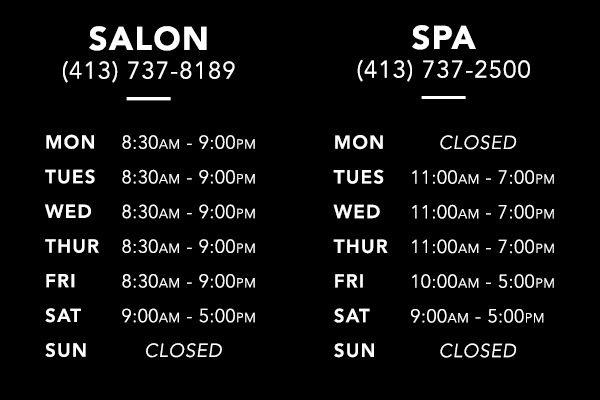 LOCATION
423 W Broadway
Boston, MA 02127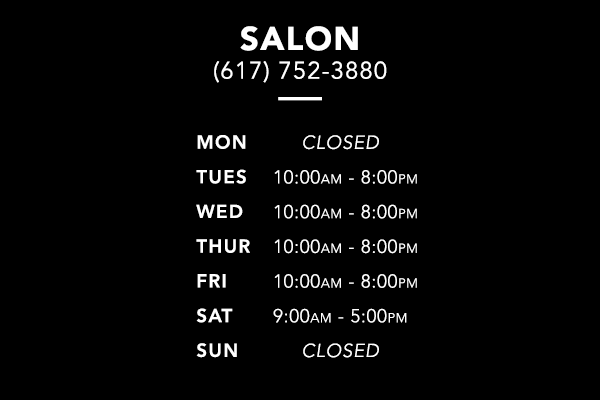 LOCATION
11 College St.
South Hadley, MA 01075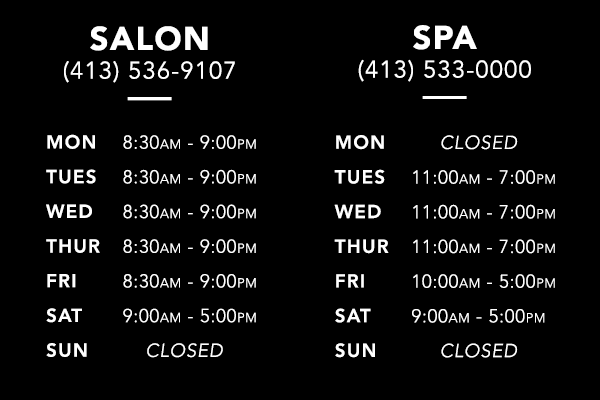 LOCATION
653 N Main St.
East Longmeadow, MA 01028
Mon | 8:30am - 9:00pm
Tues | 8:30am - 9:00pm
Wed | 8:30am - 9:00pm
Thur | 8:30am - 9:00pm
Fri | 8:30am - 9:00pm
Sat | 9:00am - 5:00pm
Sunday | Closed
Mon | Closed
Tues | 11:00am - 7:00pm
Wed | 11:00am - 7:00pm
Thurs | 11:00am - 7:00pm
Fri | 10:00am - 5:00pm
Sat | 9:00 am - 5:00 pm
Sun | Closed
LOCATION
11 College St.
South Hadley, MA 01075
Mon | 10:00am - 8:00pm
Tues | 10:00am - 8:00pm
Wed | 10:00am - 8:00pm
Thur | 10:00am - 8:00pm
Fri | 10:00am - 8:00pm
Sat | 9:00am - 5:00pm
Sun | Closed
Mon | Closed
Tue | 11:00am - 7:00pm
Wed | 11:00am - 7:00pm
Thur | 11:00am - 7:00pm
Fri | 10:00am - 6:00pm
Sat | 9:00am - 5:00pm
Sun | Closed
LOCATION
423 W Broadway
Boston, MA 02127
Mon | Closed
Tues | 8:30am - 9:00pm
Wed | 8:30am - 9:00pm
Thur | 8:30am - 9:00pm
Fri | 8:30am - 9:00pm
Sat | 9:00am - 5:00pm
Sun | Closed