Since 1985 we have represented the highest standards in the hair industry and place a great deal of importance on assembling the best team possible. Our success is dependent on the collective energy and aptitude of all of our team members. We have developed a culture of highly motivated individuals and we can't do what we do without them.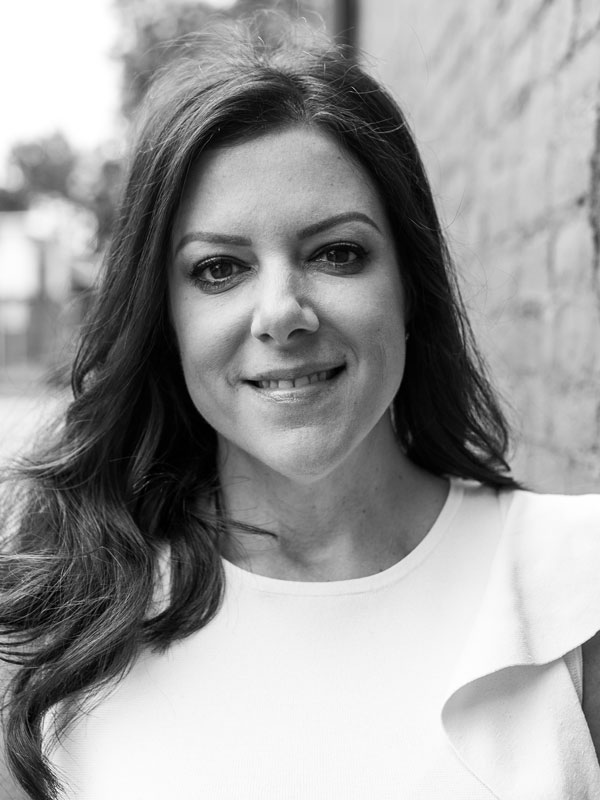 BECKY M.
Location: EL & SB
Experience: 20+ years 
Catalog: #OchoaBeckyM

BECKY'S STORY
Becky has been behind the chair at Ochoa for all 24 years of her career. She has truly become a master of her craft; from precision haircutting to all things color and lightening, consistently evolving to stay on top of all the latest hair trends. Outside of the salon, you can find Becky exploring Western Mass all the way to Boston with her Ochoa family, son, and friends!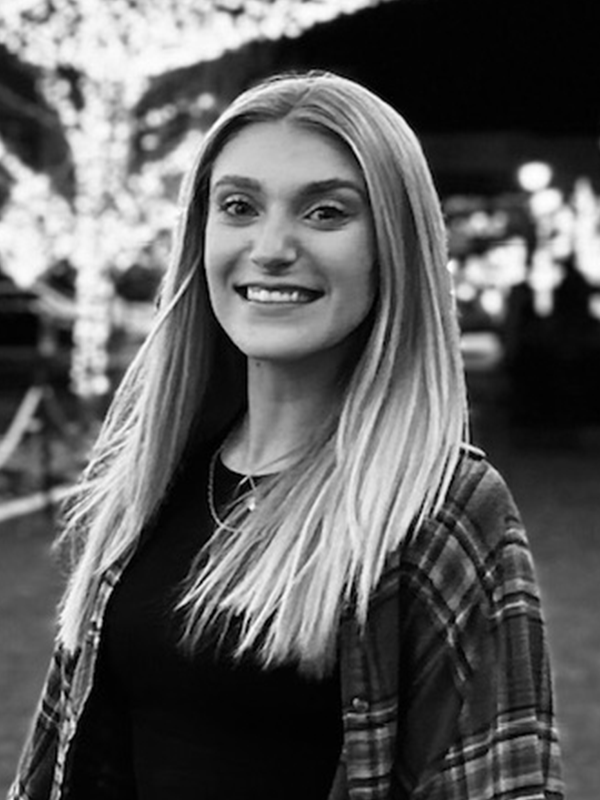 BROOKE M.
Location: South Boston
Experience: 5+ years
Catalog: #OchoaBrookeM
BROOKE'S STORY
Brooke has been behind the chair since 2017. Loving all things color, she specializes in blonding. Her goal is to bring clients' expectations to a reality while keeping the hair healthy!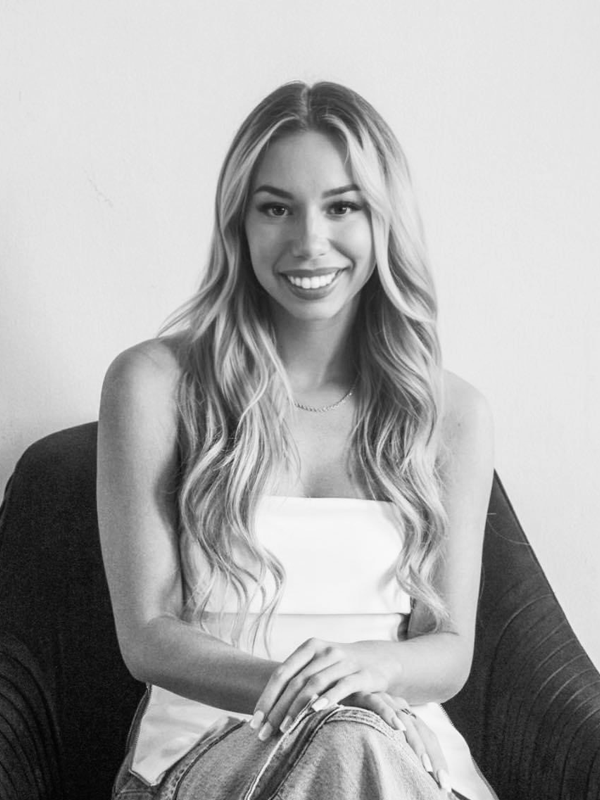 CASSIE'S STORY
For the past 7 years, Cassie has been behind the chair specializing in all things blonding, extensions, and cutting. Cassie enjoys connecting with her clients, while bringing their visions to life. When Cassie is not with her clients, she is spending time with her dog, Lexi, or adventuring with friends and family. She can't wait to meet you and make your hair goals a reality!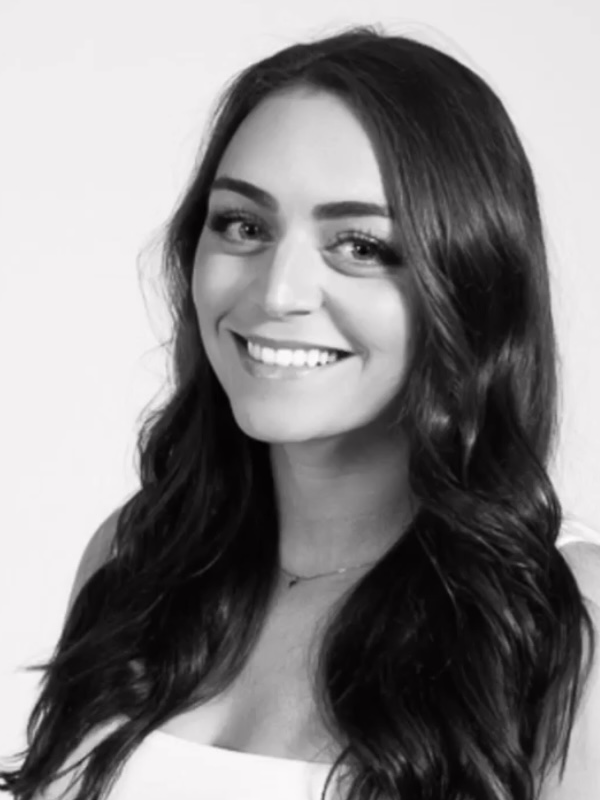 FRANKI'S STORY
Franki is a true creative with a passion for her craft, giving all clients a 5 star service. Franki specializes in blonding techniques of all kinds, treating every hair canvas like a true piece of art. Outside of the salon, you can find Franki at the beach with her Frenchie, Benny, and she can't wait to make you and your hair her new bestie!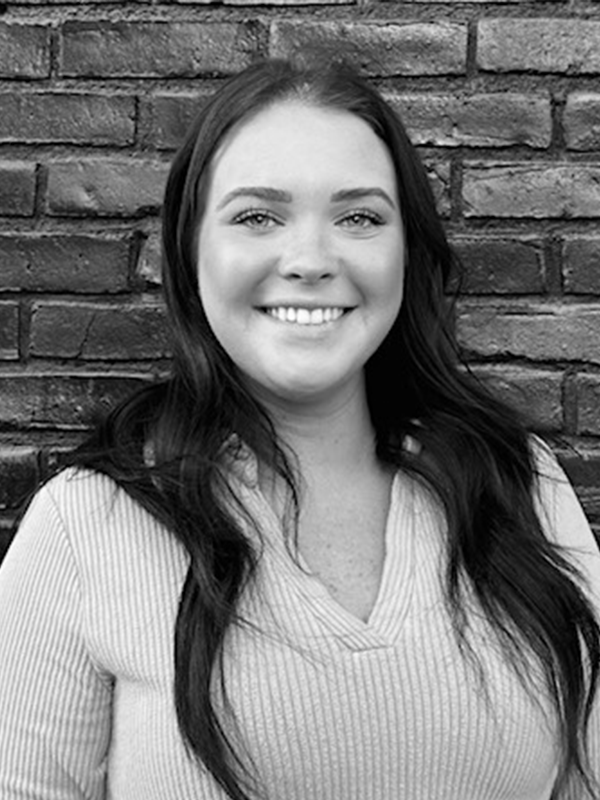 JILL C.
Location: South Boston
Experience: 5+ years 
Catalog: #OchoaJillC
JILL'S STORY
Jill is a Southie local and has been behind the chair for 5 years. She specializes in hand-tied extensions and all things color and blonding. She finishes all her services with her signature blowout! When Jill is not at the salon, you can find her trying new trying restaurants, walking the beach, and spending time with friends.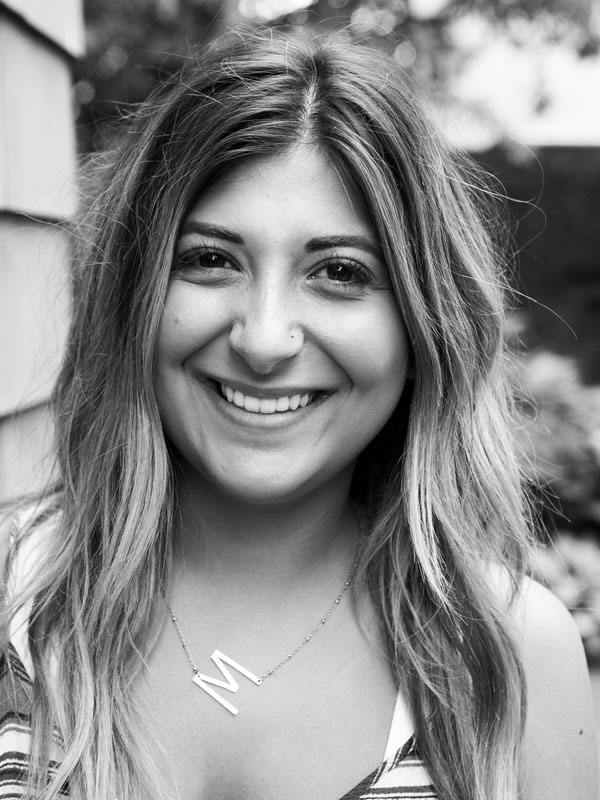 MARION'S STORY
Marion has been apart of the Ochoa family for 6 years; since the beginning of her career. Marion is a go to girl for all things style and trendy. She loves blonding, extensions, and cutting, but mainly loves connecting with clients!
MAURA H.
Location: EL & SB
Experience: 15+ years 
Catalog: #OchoaMauraH
MAURA'S STORY
Maura has been at Ochoa for nearly 20 years. She loves being able to apply her love of art to help people feel and look their best. From lived-in looks to extensions, Maura customizes all of her services to her clients' desires and needs. Having travelled across the globe for world class educational experiences, Maura has all the hair knowledge to exceed every expectation!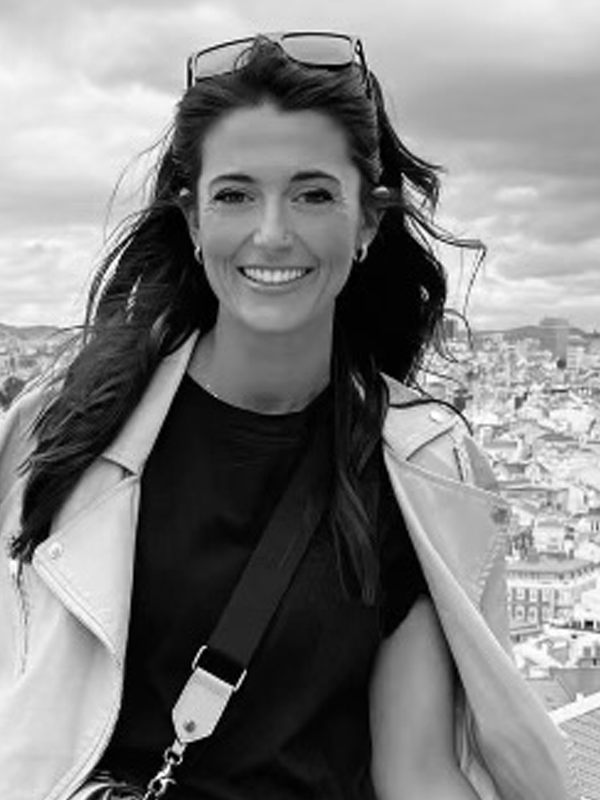 MELISSA'S STORY
Melissa is a Boston native with a passion for mastering all things hair! She specializes in hand painting and foiling techniques with all applications being customized to her clients' goals. Her bright personality and attention to detail make sitting in her chair a Boston destination. With training from some of the industry's leading educators, we think you will love sitting in her chair just as much as she will love meeting you!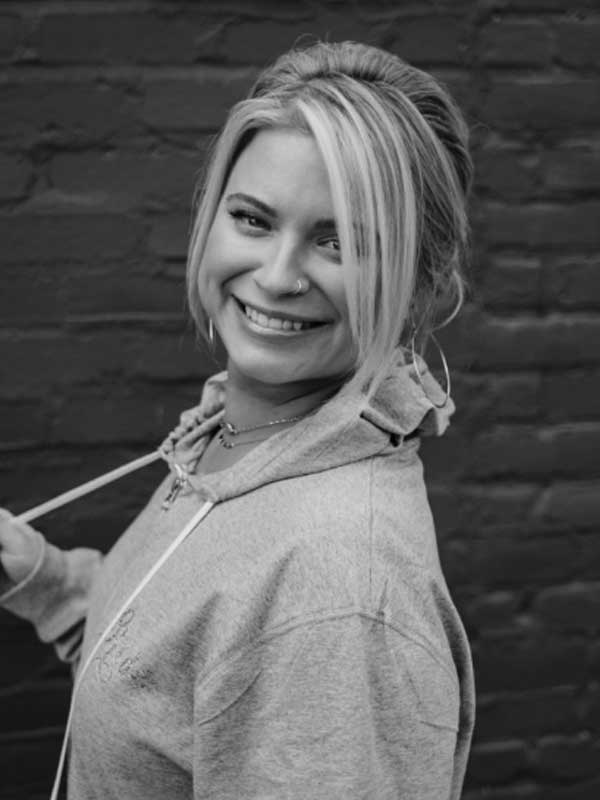 MICHAELA'S STORY
Michaela has been at Ochoa for the past 15 years. Having recently been certified as a L'Oreal Color Specialist, Michaela is part of a Global Network for Color Specialists. She thrives during any and all color transformations. The perfect compliment to her color services is her ability to blend and extend with extensions. Her infectious laugh will leave the salon with you and your newly transformed hair!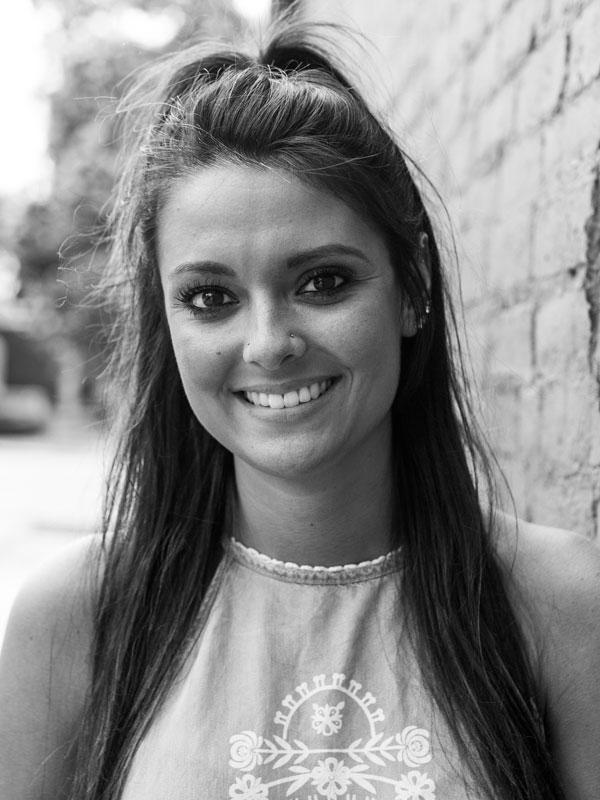 STEPHANIE C.
Location: EL & SB
Experience: 10+ years
Catalog: #OchoaStephanieC
STEPHANIE'S STORY
Steph has been behind the chair at Ochoa since the beginning of her career, 6 years ago. Steph prides herself in providing her clients with an array of exceptional services. From haircutting, color, and blonding to extensions, smoothing treatments, and event styling… Steph does it all! Her easy going personality will make sitting in her chair that much more enjoyable with a stellar result.

Quality in outcome and customer service, Ochoa is by far the destination for your most desired hair stylist. Attentive staff, relaxing atmosphere, and unparalleled care for you to look and feel great. Coming from a man who demands perfection, this salon is top. Period.
~ Adam
The very best salon in the area! I've been a client for close to 10 years. The most talented, accommodating and friendly stylist including the reception staff etc. Great spa services, comfortable, relaxing setting upstairs. Deena, Gina, Katie take great care of me. Always leave feeling amazing! Maura, Michaela do the most amazing color always spot on! I LOVE Ochoa forever!!
~ Lucy
I booked Ochoa Salon and Spa for my wedding day hair and makeup. My bridesmaids, my mother, and I all had hair and makeup done, and the work was flawless! The only reason for a 4-star review is that it was difficult at times to reach the person booking the services. But on the day of the wedding, everything was perfect. Thanks, ladies!
~ Meredith


LOCATION
653 N Main St.
East Longmeadow, MA 01028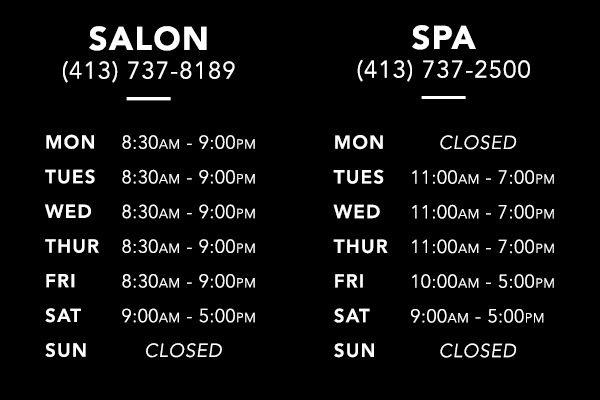 LOCATION
423 W Broadway
Boston, MA 02127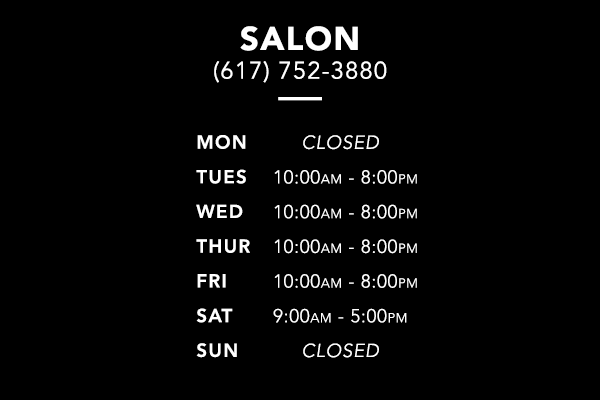 LOCATION
11 College St.
South Hadley, MA 01075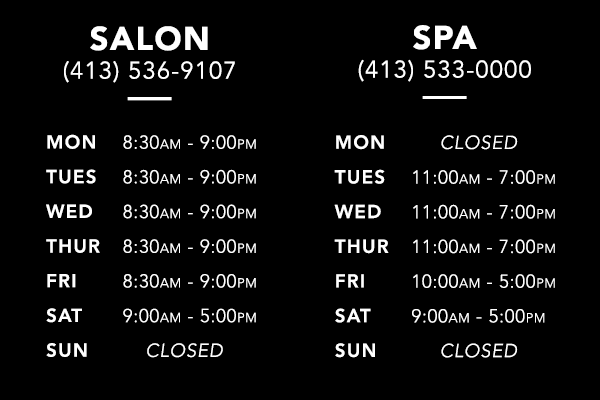 LOCATION
653 N Main St.
East Longmeadow, MA 01028
Mon | 8:30am - 9:00pm
Tues | 8:30am - 9:00pm
Wed | 8:30am - 9:00pm
Thur | 8:30am - 9:00pm
Fri | 8:30am - 9:00pm
Sat | 9:00am - 5:00pm
Sunday | Closed
Mon | Closed
Tues | 11:00am - 7:00pm
Wed | 11:00am - 7:00pm
Thurs | 11:00am - 7:00pm
Fri | 10:00am - 5:00pm
Sat | 9:00 am - 5:00 pm
Sun | Closed
LOCATION
11 College St.
South Hadley, MA 01075
Mon | 10:00am - 8:00pm
Tues | 10:00am - 8:00pm
Wed | 10:00am - 8:00pm
Thur | 10:00am - 8:00pm
Fri | 10:00am - 8:00pm
Sat | 9:00am - 5:00pm
Sun | Closed
Mon | Closed
Tue | 11:00am - 7:00pm
Wed | 11:00am - 7:00pm
Thur | 11:00am - 7:00pm
Fri | 10:00am - 6:00pm
Sat | 9:00am - 5:00pm
Sun | Closed
LOCATION
423 W Broadway
Boston, MA 02127
Mon | Closed
Tues | 8:30am - 9:00pm
Wed | 8:30am - 9:00pm
Thur | 8:30am - 9:00pm
Fri | 8:30am - 9:00pm
Sat | 9:00am - 5:00pm
Sun | Closed