Thank you for informing the salon that you will not be able to make your scheduled reservation(s). All clients will have an opportunity to reschedule their reservation(s) within 7 days. In order to avoid our cancellation fee, you will need to reschedule your reservation(s) with the same service provider as previously scheduled. If there is no availability with your service provider or you are unable to return within the 7-day time frame, you will be subject to our cancellation fee.
Cancellation Fee = 50% (per service)
If you fail to inform the salon you will not be able to make your reservation(s), you will be subject to our no show fee. Our no show fee is based on the duration of your appointment.
No Show Fee = 100% (per service)
PLEASE NOTE: Every appointment will now require a credit card on file in order to secure a reservation.
All retail products can be returned within 30 days of purchase. All returns can either be exchanged for another product or receive a gift card equating to the dollar amount of the product.
If you are dissatisfied with the outcome of your service, we will offer you a complimentary redo service in order to properly meet your expectations.
The initial service will not be refunded.
PLEASE NOTE: Under no circumstances will refunds be placed back onto a credit card.
We are not responsible for lost or damaged items.

LOCATION
653 N Main St.
East Longmeadow, MA 01028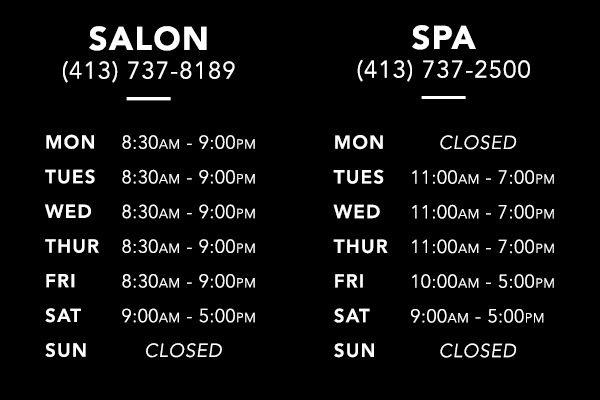 LOCATION
423 W Broadway
Boston, MA 02127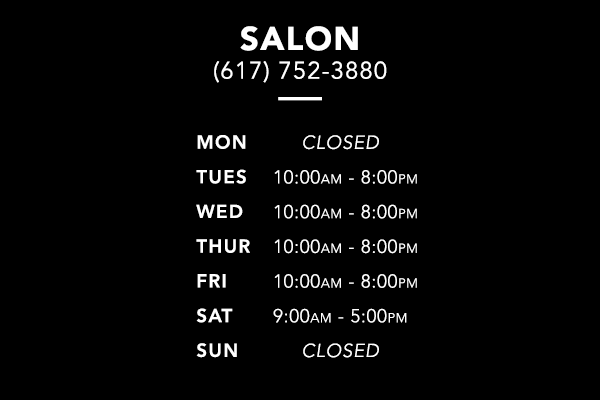 LOCATION
11 College St.
South Hadley, MA 01075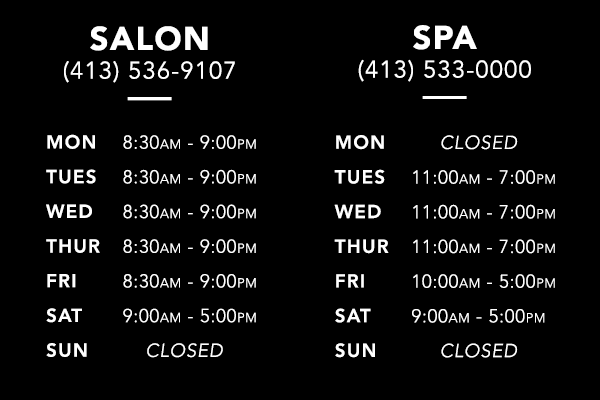 LOCATION
653 N Main St.
East Longmeadow, MA 01028
Mon | 8:30am - 9:00pm
Tues | 8:30am - 9:00pm
Wed | 8:30am - 9:00pm
Thur | 8:30am - 9:00pm
Fri | 8:30am - 9:00pm
Sat | 9:00am - 5:00pm
Sunday | Closed
Mon | Closed
Tues | 11:00am - 7:00pm
Wed | 11:00am - 7:00pm
Thurs | 11:00am - 7:00pm
Fri | 10:00am - 5:00pm
Sat | 9:00 am - 5:00 pm
Sun | Closed
LOCATION
11 College St.
South Hadley, MA 01075
Mon | 10:00am - 8:00pm
Tues | 10:00am - 8:00pm
Wed | 10:00am - 8:00pm
Thur | 10:00am - 8:00pm
Fri | 10:00am - 8:00pm
Sat | 9:00am - 5:00pm
Sun | Closed
Mon | Closed
Tue | 11:00am - 7:00pm
Wed | 11:00am - 7:00pm
Thur | 11:00am - 7:00pm
Fri | 10:00am - 6:00pm
Sat | 9:00am - 5:00pm
Sun | Closed
LOCATION
423 W Broadway
Boston, MA 02127
Mon | Closed
Tues | 8:30am - 9:00pm
Wed | 8:30am - 9:00pm
Thur | 8:30am - 9:00pm
Fri | 8:30am - 9:00pm
Sat | 9:00am - 5:00pm
Sun | Closed