At Ochoa Salon & Spa we believe that loyalty should be rewarded. We are passionate about building lasting relationships and continually exemplifying our dedication to you. Our clients fuel our passion every day and give us the energy and motivation needed to achieve excellence in our industry. Please allow us to demonstrate our appreciation for your continued support with our new loyalty program. 
HOW DO I SIGN UP?
You are automatically enrolled in our loyalty program when you make a purchase at Ochoa Salon & Spa. 
HOW DO I EARN LOYALTY POINTS?
You are awarded points when you receive a service or purchase a retail product. Points are not awarded when purchasing a gift card or gift certificate. 
HOW MANY POINTS DO I HAVE?
To search your loyalty points, download the FREE Ochoa Salon & Spa App and create an account. Our new app gives you the ability to manage and spend your loyalty points. 
WHEN CAN I REDEEM MY POINTS?
When you earn 1,000 loyalty points you will earn $25 towards your next service or product. Points have no expiration date and are non-refundable and non-transferable.

The team at Ochoa's was friendly, knowledgeable, and talented. The HydraFacial was incredible, as was my blowout and makeup. Will definitely be back! Thank you!!
~ Sara
I've had my hair done all over the east coast and currently live in Manhattan where there are an abundance of salons to choose from but, wish there could be an Ochoá Salon and Spa down the road. Their stylists are extremely friendly and helpful and I absolutely love my hair everytime I leave! Customer service is always helpful and I will definitely be returning soon!
~ Lisa
Been going to Ochoa for over a decade. NEVER had a bad experience. Got my hair cut for my wedding there. Brought my siblings and brother in law there to get cuts for their weddings too. They never disappoint no matter who you see.
~ Adam


LOCATION
653 N Main St.
East Longmeadow, MA 01028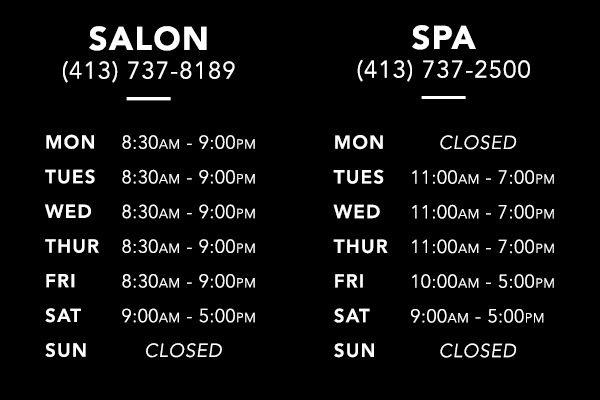 LOCATION
423 W Broadway
Boston, MA 02127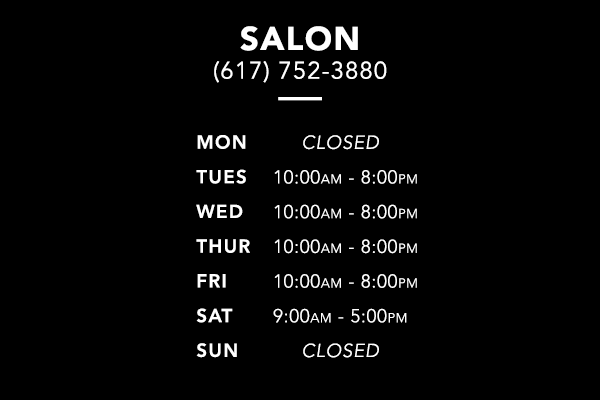 LOCATION
11 College St.
South Hadley, MA 01075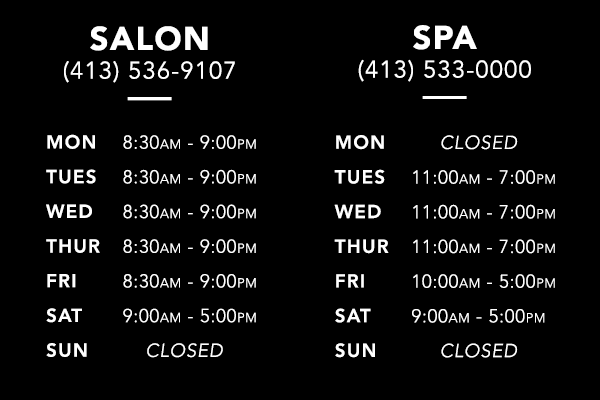 LOCATION
653 N Main St.
East Longmeadow, MA 01028
Mon | 8:30am - 9:00pm
Tues | 8:30am - 9:00pm
Wed | 8:30am - 9:00pm
Thur | 8:30am - 9:00pm
Fri | 8:30am - 9:00pm
Sat | 9:00am - 5:00pm
Sunday | Closed
Mon | Closed
Tues | 11:00am - 7:00pm
Wed | 11:00am - 7:00pm
Thurs | 11:00am - 7:00pm
Fri | 10:00am - 5:00pm
Sat | 9:00 am - 5:00 pm
Sun | Closed
LOCATION
11 College St.
South Hadley, MA 01075
Mon | 10:00am - 8:00pm
Tues | 10:00am - 8:00pm
Wed | 10:00am - 8:00pm
Thur | 10:00am - 8:00pm
Fri | 10:00am - 8:00pm
Sat | 9:00am - 5:00pm
Sun | Closed
Mon | Closed
Tue | 11:00am - 7:00pm
Wed | 11:00am - 7:00pm
Thur | 11:00am - 7:00pm
Fri | 10:00am - 6:00pm
Sat | 9:00am - 5:00pm
Sun | Closed
LOCATION
423 W Broadway
Boston, MA 02127
Mon | Closed
Tues | 8:30am - 9:00pm
Wed | 8:30am - 9:00pm
Thur | 8:30am - 9:00pm
Fri | 8:30am - 9:00pm
Sat | 9:00am - 5:00pm
Sun | Closed